Last night we finally pulled into the hotel at 10:30. Imagine our exhausted, rag-a-muffin family arriving rumpled and more than ready for bed at a lovely riverside Doubletree. Oh were we a sight to be seen!
Our exhaustion was quickly remedied with some warm chocolate chip cookies, beautiful hotel room, comfy beds and squishy pillows. The hotel was a 1970's Red Lion that had been gorgeously remodeled by Hilton into this well appointed Doubletree. They took care to modernize and upgrade without loosing the fabulous retro charm. To top it all off we really were riverside. I guess that is why the hotel is so aptly named Doubletree Edge Water. We wish we had more time to enjoy this hotel and location. Missoula is a perfectly picturesque mountain town situated alongside the Blackfoot River.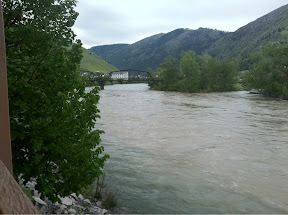 The drive through the Idaho panhandle was quick and gorgeous. The hills are lush and green dotted with azure lakes and clear roadside streams. Lake Coeur D'Alene was as stunning as last year. Of course it helps that the weather is perfect. 65 degrees and sunny. Just before we crossed into Idaho we stopped at a cool rest stop that has a large number of Ground Squirrels. We spent or wasted depending on your view 1 hour feeding pretzels to these fuzzy little guys.
It's a beautiful sunny day in Washington State. Last night seems to have transported us back in time. We stopped at the rest area at Sprague Lake and they had powdered soap!! Paul tells me it is just like the pink powdered soap he had in elementary school. This was my first experience with the stuff. Imagine my shock when I pressed the dispenser expecting liquid! Now Paul is singing along to Rhinestone Cowboy. We are getting the full 70's experience!
Dispute only getting 4-5 hours sleep last night we are all in great moods. It's the home stretch, the weather is fantastic and we are making great time!
- Posted using BlogPress from my iPhone
Location:Medical Lake,United States